Welcome to the WhatIfSports.com tournament simulation to see who is the best Friar team of all-time.  All games are simmed only once using default roster depth, the better seed as the home team, and on a neutral court.
Check out each box score…it has a play-by-play of the entire game!

The Federal Hill Region will be played today.  Click here for the full bracket.
ROUND 2 RESULTS

SMITH HILL REGION

#1.   1972-73: 81
#8.   2006-07: 72

Final

Full boxscore
"Barnes Muscles Top Seed Into Final Four"
The '73 Friars are no stranger to Final Fours.   A 2nd straight double-double by Marvin Barnes helped his team reach another one, as they defeated the '07 Friars 81-72.  Barnes tied for a team high of 16 points, and also had a game-high 15 boards.
Behind the strong play of Weyinmi Efejuku (11 first half points, 20 overall) and Herbert Hill (8 first half points, 13 overall), the '07 Friars took a 41-38 lead into the half.  Sharaud Curry hit a straight away 3 point shot with only 20 seconds remaining in the half, to give the '07 team their largest lead of 41-36.  However, Barnes set the tone for the rest of the game by hitting a jump shot from the wing with only 2 seconds left to cut the halftime lead to 3.
The '73 team wasted little time regaining the lead coming out of the half.  Kevin Stacom (7-16 16 points) took a gorgeous pass from Ernie DiGregorio and jammed home a powerful dunk to give the '73 squad a 49-47 lead with 16:32 to go in the game.
Charlie Burch gave the '07 Friars a one point lead on a nice inside shot with 11:09 remaining.  However, they would only score 3 points in the next five minutes. Barnes and Stacom continued their inside dominance and took a 69-61 lead with 6 minutes to go. The '07 team had trouble making any defensive stops the rest of the way and couldn't overcome the draught.
All five starters scored in double digits for the '73 Friars.

—————————————

#5.   2000-01: 70
#13.  1983-84: 61

Final
"Mills Guides '01 Friars To 70-61 Victory To Dash '84's Cinderella Hopes"
Heading into last night's game, Coach Welsh knew exactly what it was going to take to stop the '84 Friars.  "Our gameplan on defense is going to be simple.  We stop Thorpe and make someone else step up.", said Welsh.
The '01 Friars and their tenacious zone defense did just that, as they held Otis Thorpe to just 9 points on 4 of 9 shooting.   Donnie Brown (3-10, 7 points) and Brian Waller (2-8 shooting) had poor shooting nights and could not pick up the scoring slack.  Sean Canty was the leading scorer for the '84 Friars with only 12 points off 7 shots.
Adbul Mills led the way for '01 team with 15 points on excellent shooting (6-9, 2-2 from downtown).  Overall the team was a sparkling 7-16 (43.8%) from behind the arc.
Although the '01 Friars led for most of the way and held a commanding 38-24 lead at the half, the '84 team did not quit and put up a little run in the second half.  Thorpe took a beautiful pass from Carl Hill and was able to take it in for an open dunk.  On the next possession, Billy Donovan hit a nice hook shot to cut the lead to 53-48.
To counter the run, '01 Friars got some key help from two players off the bench.  Chris Anrin (7 points in 11 minutes) hit two free throws and had a nice tip in, and Maris Laksa (8 points in 19 minutes) sandwiched in a 3 pointer to push the lead back to double digits with 5 minutes in the game.  The defense took over and they held on for an easy win.

——————————-

FEDERAL HILL REGION

#6. 2003-04: 75
#3. 1996-97: 77

Final
"'04 Friars Can't Stop Thomas Down the Stretch, Fall 77-75"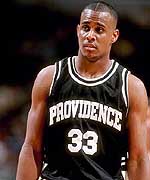 Coming off of an MVP type performance in a spectacular OT win in the first round, forward Ryan Gomes expected another great game out of himself.  What he did not expect however, was his team blowing a 7 point lead with 5 minutes to go.
Chris Anrin hit a three ball from the left corner for his only points of the game.  However, it gave the '04 Friars a 70-63 lead with 5:03 to go.  Welsh and his team felt very confident after the ensuing timeout.  "I told my players to just keep gutting it out on defense.  We did a tremendous job stopping (Austin) Croshere for the whole game, but just had to clamp down on Derrick Brown.", said Welsh after the game.
Perhaps that plan should have focused on a way to contain Jamel Thomas.  Thomas single handedly turned things around and scored the game's next 9 points with 2 foul shots, 2 short jumpers, and a 3 pointer from straight away.  All of a sudden with 2 minutes left, the '97 Friars saw themselves with a 72-70 lead.  Derrick Brown (7-14, 21 points) and Ruben Garces (10 points, 7 rebounds) each added a bucket extending the lead to six with just a minute left.   Gomes would finally end the disasterous 4 minute scoring drought with an open jump shot, but it was too little too late.
"Coach just gave me a green light.  Austin was having some trouble with his shot, so he said I really needed to step up and take control.  You know me, I'm never afraid to take shots", added Thomas with a laugh.
"We gave that game away.  Not to take anything away from our opponent, they played a great game, but we can't play like that down the stretch and expect to win.  I don't care who we are playing", Gomes said afterwards.

———————————

#10. 2002-03: 66
#2.  1986-87: 76

Final

Full boxscore
"'87 Friars Overcome Shaky Start To Topple '03 Team 76-66."
For the second straight game, Rick Pitino's squad came out flat in the first half.  For the second straight game, they also exploded for almost 50 points in the 2nd half, outscoring their opponent by 18.
Despite some sloppy play resulting in 20 turnovers, the '03 Friars held the lead for the entire first half thanks to strong play from Shieku Kabba (12 first half points, 15 overall).  With 30 seconds left in the half, Kabba drilled a long 3 to give the '03 team a solid 35-27 lead heading into the lockerroom.
"We couldn't have shot worse in 20 minutes if we tried.   I was not worried though.  As long as we kept the pace up and continued to get open looks, I knew the guys would start hitting their shots.  With this team, its just a matter of time when they are going to go off in a game.", said Coach Pitino.
It took around 3 minutes for the '87 Friars to get back into the game.  Ernie Lewis (team high 18 points) hit back to back long threes, and Jacek Duda scored his only 2 points to tie the game up at 37 with 16:48 left.  The next 9 minutes featured numerous lead changes as both teams refused to give in.  Ryan Gomes hit two foul shots with 8:52 to give his squad a 58-57 lead.  The '03 Friars would not score for the next 5 minutes.  About a minute later, Ernie Lewis hit another 3 to give the '87 Friars a 60-58 lead.  They would not look back.  Over the last 8 minutes of the game, the '87 team outscored the '03 team 19-8 to win by 10 points.
Ryan Gomes had another strong effort in his getting second straight double-double of the tournament, with 20 points and 14 rebounds.

—————————-

So we have our Final Four teams!

FINAL FOUR

#1.   1972-73
#5.   2000-01
One Tim Welsh team makes it to the Final Four! How will Marvin Barnes match up against the Zone and Shabazz?

————————————-

#2.  1986-87
#3.  1996-97
Two beloved Friar teams go head to head.  Billy The Kid v. God!

'————————————-

Who does everyone think will advance?