Welcome to the WhatIfSports.com tournament simulation to see who is the best Friar team of all-time.  All games are simmed only once using default roster depth, the better seed as the home team, and on a neutral court.
Check out each box score…it has a play-by-play of the entire game!

The Final Four will be played today!  Click here for the full bracket.
ROUND 2 RESULTS
THE FINAL FOUR
The first game features the #1 seed 1972-73 Friar team.  They have had no trouble winning their first two games.  Marvin Barnes has been simply dominating, averaging 18 points and 14.5 rebounds so far in the tournament.  Let's take a look at their full starting lineup.
PG    Ernie DiGregorio
SG    Kevin Stacom
SF    Fran Costello
PF    Nehru King
C    Marvin Barnes
They will be facing the #5 seed 2000-01 team, who have been playing an excellent team game.  The highest scoring player so far was Abdul Mills' 15 points in the second round.  Let's check out their starters.
PG    John Linehan
SG    Abdul Mills
SF    Romuald Augustin
PF    Erron Maxey
C    Karim Shabazz
———————————————————
The second half of the Final Four features the #2 seed '87 squad.  In each of their wins so far, they have come up flat in the first half.  However, they have rallied for big runs late in the game to put teams away.  They can't afford to start off poorly against the '97 team.   Let's go to their starting 5.
PG    Billy Donovan
SG    Ernie Lewis
SF    Delray Brooks
PF    David Kipfer
C    Jacek Duda
They will be challenged by the #3 seed '97 team.  Jamel Thomas single handedly vaulted them into the Final Four with his 2nd half performance against the '04 Friars.  Croshere is looking to rebound after an off shooting night.  Let's see who else will start.
PG    God Shammgod
SG    Jamel Thomas
SF    Austin Croshere
PF    Derrick Brown
C    Ruben Garces
Let's see the results!
—————————————
RESULTS
#1.   1972-73: 82
#5.   2000-01: 74
Final
"Barnes' Vision of Championship is 20/20"
Marvin Barnes continued his tournament dominance once again, leading his '73 Friars into the Championship game by defeating the 2000-01 team by a score of 82-74.  For the third consecutive game, Barnes registered a double-double.  This one was the most impressive, as he dropped 20 points and pulled down an incredible 20 of his team's 34 rebounds.  Ernie DiGregorio was also spectaular again as the game's high scorer with 25 points and 9 assists.
"I'm really proud of these guys.", said coach Dave Gavitt. "But we still got one more to go before we truly can be considered the best Friars ever."
Karim Shabazz managed to get a less-impressive 10 point / 10 rebound double double for the '01 Friars, as they out-rebounded their opponent 40-34.  Despite their unexpected success on the glass, the '01 team couldn't keep the '73 Friars top trio from scoring every time they got in striking distance.
Twice, the '01 Friars were able to cut the defecit to only 4 points. Erron Maxey (16 points on 8-13 shooting) hit a floater to cut the defecit to 44-40 with about 15 minutes left. The '73 team then went on a 15-6 run with Barnes, DiGregario, and Stacom spreading out the scoring.
John Linehan once again brought the '01 Friars back into the game with a big 3 at the 7 minute mark.  However, Barnes and DiGregario continued their hot shooting and allowed the '73 Friars to pull away.
"Definitely one of the best teams I've ever coached against", said coach Tim Welsh. "Every time you think you have a shot, they respond right away.  It's almost like they were toying with us just to keep the game insteresting".
The '73 Friars will face the winner of the '97/'87 in the Championship game next week.
———————————-
#2.  1986-87: 65
#3.  1996-97: 76
Final
"Croshere and Brown Too Much for '87 Friars"
For Rick Pitino and his '87 Friars, it was yet another tale of two halves.  Unfortunately, his team picked the wrong half to struggle against a tough '97 Friars team.  By holding the '87 Friars to only 21 points in the second half, Pete Gillen's Friars held on for a 76-65 victory to advance to the Championship game.
Point guard Billy Donovan knew that they would have to come out of the gates strong if they were going to have a chance.  "This whole tournament we've played pretty poorly in the first half.  We couldn't allow ourselves to get behind a team this tough", said Donovan.
The '87 Friars shot well in the first half and led by as many as 7.  With 3 minutes to go, Donovan hit his only 3 he attempted in the half (he was 0-6 in the 2nd) to give his team a 38-31 lead.  Austin Croshere and Derrick Brown combined for 10 points in the final 2 minutes to cut their defecit to 44-41.
Despite poor shooting, the '87 Friars held on to a small lead for the start of the 2nd half.  Ruben Garces (12 points, 12 rebounds) gave the '97 Friars their first lead of the half with a nice tip in with 13 minutes remaining.  After several lead changes, Gillen's team took control with a 5 point lead at the 7 minute mark.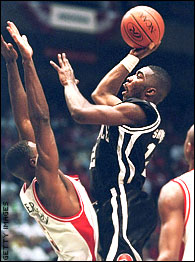 It seemed like Pitino was about to bring out more 2nd half magic.  Ernie Lewis hit an open layup to bring the '87 Friars within one point with only 4 minutes remaining.  However, the team would only score one more point for the rest of the game.  Austin Croshere provided the knock out punch with an open 3 to push the lead to 74 – 65 with only 2 minutes remaining.
Croshere was glad to put his poor Round 2 performance behind him, ending with a game high 20 points and 7 rebounds.  Last round's hero Jamel Thomas had only 9 points on 2-11 shooting.
"It's seems like Jamel and I keep alternating between good and bad nights.  Lucky for him, looks like he's going to have a great finals", said Croshere jokingly.
Derrick Brown had another great game with 19 points including a perfect 10-10 from the line.  He is averaging 19 ppg in the 3 games played.
Delray Brooks was the top scorer for the '87 team with 14 points.
————————————-
CHAMPIONSHIP GAME
#1.  1972-73
#3.  1996-97
The '73 Friars are clearly going to be favored in this game, because they are just too talented.  Marvin Barnes is a clear favorite to win the MVP of the tournament. However, the '97 squad has some big time players of their own.  God Shammgod has been pretty quiet all tournament.  Jamel Thomas and Austin Croshere have been inconsistant, but spectacular when on.   Derrick Brown is making his own case for tournament MVP, and has to be considered if his team can pull off the upset.