Here is something important I learned last night: NEVER watch LOST hours after a painful Friars loss.  Just don't do it.  The show does not deserve that from you, loyal LOST fan.  By the way, don't worry, I will not give anything away for those who haven't watched it yet.
"Oh shit Kate, someone wants to steal your weird looking baby who is not really your son?  Fuck that, we couldn't stop Villanova from scoring you inconsiderate assholes!"
I did find it funny though that some of Losties' noses started to bleed after TRAVELING through time and space with the Island and whatnot.  I could have sworn the same thing happened to me last night — Except I wasn't skipping around time due to strange flashes in the sky.  I practically turned into Charlotte convulsing on the ground with a face full of blood after the phantom TRAVELING call on Jeff Xavier even though he got pushed to the ground.
With no help from the refs or their own rebounding skills, PC fell short 94-91.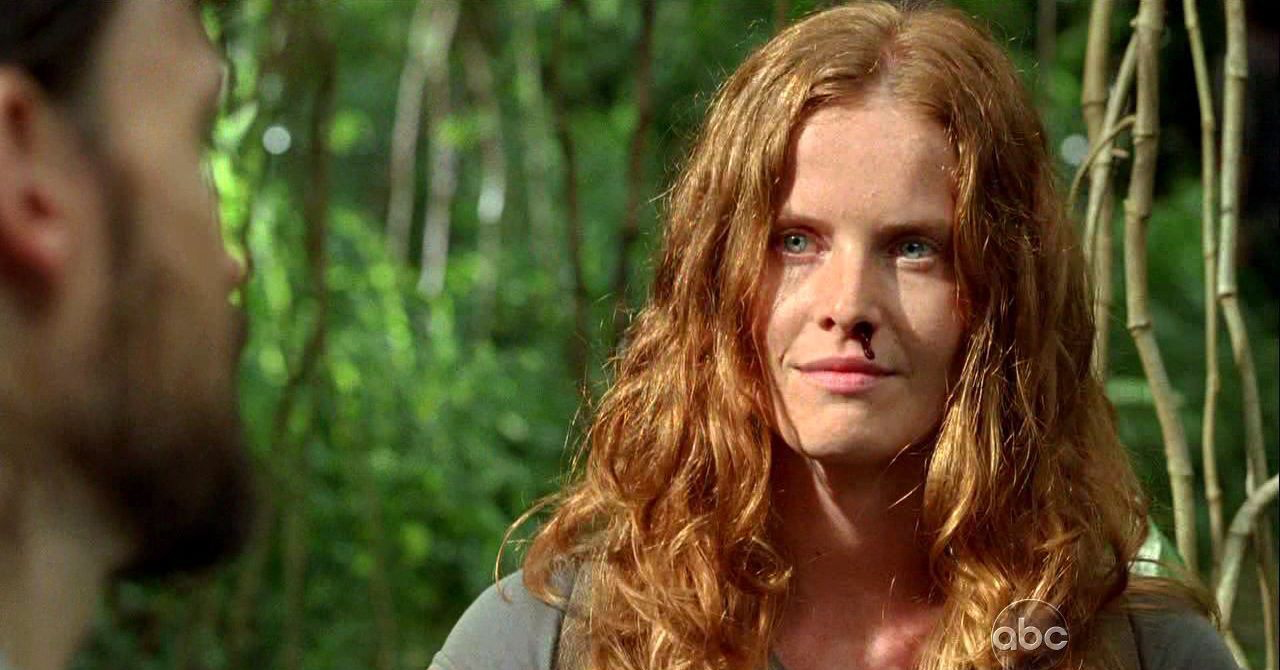 After the sequence where PC missed about 3 shots in a row, including that Weyinmi Efejuku layup, Charlotte's brain couldn't take it anymore. Yeah, they get MSG+ on the Island.
LETS TAKE A CLOSER LOOK AT 'THE FOUR FACTORS'
- The biggest disparity was clearly rebounding.  In the first half, Villanova was pretty much just making everything.  In the second, their shots were not falling, but they kept getting second chances.  Three Wildcats finished with over 10 rebounds (and they all had over 10 points too) – Dwayne Anderson (10 rebounds, 19 points), Reggie Redding (11 rebounds, 12 points), and Dante Cunningham (11 rebounds, 12 points).  Redding and Cunningham both had a game high 4 offensive rebounds, and so did Shane Clark.  The Friars got more offensive rebounds than I would have thought after watching the game – Kale lead the team with 4, and Jeff Xavier, Efejuku, and McDermott each had 3.  The big difference was that Villanova was able to capitalize better, finishing with 21 second chance points versus Providence's 14.
- Turnovers were a wash, with Providence playing sloppy in the 1st half with 12 turnovers, and Villanova taking a turn in the sloppiness with 10 turnovers in the 2nd.  The Friars narrowly edged the Wildcats in points off turnovers 26-24.
OTHER STAT NOTES
For more information on advanced stats, check out Ken Pomeroy's 'Stats Explained' and his 'Stats Primer'
Providence Offensive Rating by Half:
1st Half – 82.9
2nd Half – 132.6
Game: 108.3
Thanks to ferocious three point shooting in the last 7 minutes of the game, the Friars were able to put up really impressive numbers for the second half.
Their offensive rating for the game was similar to that of the Marquette loss.  Only the Seton Hall, Syracuse, and Away Cincinnati game had higher offensive ratings for the Friars in BIG EAST games.  Impressive, considering their first half stinker.
Villanova's Offensive Rating by Half:
1st Half – 119.51
2nd Half – 107.1
Game: 113.3
Even though it seemed like Villanova was scoring at will, their ratings numbers aren't as crazy as one would think.  Don't get me wrong, 110+ is a great offensive night. However, Syracuse, Seton Hall, Marquette, and (obviously) UCONN all had higher rating numbers against the Friars.
Providence Effective FG % by Half:
1st Half – 45%
2nd Half – 56%
Game: 51%
Amazing.  17 three pointers made (12 in the second half), and the eFG% is still only 50%.
Villanova's Effective FG % by Half:
1st Half – 60%
2nd Half – 41%
Game – 51%
It seemed like in the first half, Nova was hitting everything in sight.  They shot 8-15 (53%) from behind the arc, which was higher than their FG% of 48.6% for the half!  Even though Villanova struggled from the field in the 2nd (they shot 1-13 from 3-point land), they would still score by either getting the offensive rebound or getting a whistle.
LET'S SERVE SOME PASTA
Let's judge some performances by dishing out some pasta (from 1-4, 4 being awesome). My homage to the Star-Ledger.
Scottie Reynolds - Did most of his damage from the line in the 2nd half.  How many players are going to score 30+ against the Friars?

Sharaud Curry – Played his heart out.  Those two insanely deep threes at the end were simply amazing.
Weyinmi Efejuku – Dominated in the 2nd half.  First half? Not so much.
Dwayne Anderson – I have no idea who you are, but I hate you.

Geoff McDermott – Sure, 11 rebounds…but we are going to need *some* offensive help

Brian McKenzie – Fouled out with 11 mins left in the game.  Seriously dude?
Randall Hanke – Authorities are still trying to determine if he actually played last night.

BOX SCORES FOR THE STATS NERDS!
ROUNDUP AROUND THE INTERNETS
Friars.com – "Men's Basketball Outlasted By No. 17 Villanova, 94-91"
The Providence College men's basketball team (14-8, 6-4 BIG EAST) fell to No. 17/16 Villanova (18-4, 6-3) by a score of 94-91 on Wednesday, Feb. 4 at the Dunkin' Donuts Center.


The Friars tied a school-record with 17 3-pointers made (they also made 17 vs. Loyola-Chicago, Jan. 19, 2004) and broke the previous record of 34 3-point attempts set against Connecticut on Jan. 22, 1992 with their 40 tries on the night. In BIG EAST Conference play, the 17 3-pointers made is a PC all-time high.
Projo.com – "PC's furious comeback falls just short against Villanova"
After riding an explosive offense and outscoring opponents in the first half of the Big East schedule, the Providence College Friars have discovered that they cannot stop anyone at the other end of the floor. Those defensive woes ultimately doomed a spirited second-half comeback last night as Villanova outlasted the Friars, 94-91, in front of 11,212 fans at the Dunkin' Donuts Center.
Projo.com – "Home wasn't sweet for the Friars on this night"
The quickest way out of the NCAA Tournament mix is by not protecting your home court, and the Friars dropped a second painful game before their fans Wednesday night.
Philly.com – "Cats hang on to post a victory over Providence"
The sky appeared to be falling for Villanova last night at the Dunkin' Donuts Center. Providence was raining three-point baskets and its student section was raining noise and insults as the Wildcats tried to hold on to a lead that twice had reached 20 points.
Philly.com – "Villanova prevails over Providence"
The Sports Network – "Reynolds, Villanova hold off Providence"
Scottie Reynolds scored 31 points and three Wildcats recorded double-doubles, as No. 17 Villanova held a big enough lead in the second half to fend off a furious charge from the Providence Friars, escaping the Dunkin' Donuts Center with a 94-91 victory.


BLOGS
I Bleed Blue and White – "postGame: Villanova 94, Providence 91"
VUHoops.com – "Villanova 94: :91 Providence"