Two seasons ago, something suddenly clicked for senior point guard Weyinmi Efejuku early on in BIG EAST conference play.  While he showed flashes of potential early on in his Friar career in getting plenty of minutes from the very start, Efejuku often dissappeared during games.  As a sophomore, Weyinmi started all 31 Providence games and averaged a solid 14.1 PPG.  He also produced a great 109.6 offensive rating (Points scored per 100 offensive possessions), which was good for #32 overall in the whole BIG EAST.  Friartown was expecting big things going forward, but landing in former coach Tim Welsh's doghouse cut Efejuku's starts in half as a junior.  While his overall percentages remained somewhat consistent, his scoring production dropped as a result of less minutes and a small drop in FG%.
With a new coach and a senior laden team for the 2008-09 season, we didn't quite know what to expect from Weyinmi.  In out of conference play, his production was decent (he scored 15+ points 5 times, and 20+ points just once).  However, there was always the feeling that maximum potential was not being reached.  As BIG EAST play started, something changed.  Despite more inconsistency early on in conference games, anyone watching the Friars could clearly see why Efejuku was starting to succeed — it was his ability to get to the line.  After putting up three games of zero foul shot attempts, and never getting to take more than 6 freebies, he went 11-14 in the 3rd BIG EAST game (a win over Cincinnati). Efejuku would go on to record another 7 games of 10 or more foul shot attempts, including a ridiculous 15-17 in a win against Rutgers.  Teams knew he was going to take it to hole, but his speed and strength were too much.  His 61.27 Free Throw rate (FTM/FGA) was 2nd in conference play — only UCONN big man Hasheem Thabeet got to line more. Down the stretch Weyinmi was excellent, averaging 22.2 points per game over the final 9 games.  That earned him in a spot on the BIG EAST Honorable mention team.  Considering how stacked the BIG EAST was that year, it was a great accomplishment.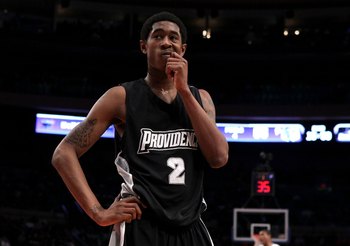 The circumstances surrounding Marshon Brooks as he enters his final year are quite different.  Brooks has only one full season as a starter under his belt, but has improved his numbers each season as his role increased.  Unlike Efejuku, Marshon will be one of two scholarship seniors (Ray Hall is a super duper senior, I think I had freshman CIV with him in '98) on a team full of inexperience and lacking in depth. However, from what Friar fans have seen in his three years here, Brooks also has the potential to do great things with his talents.
With the key losses of Sharaud Curry (graduation) and Greedy Peterson (extreme shadiness), scoring production is most likely going to have to come from Marshon every night.  I am not saying here that Marshon Brooks needs to start driving to the hoop more in order to have an Efejuku like stretch — it's not his game.  What I am saying is that for the Friars to exceed expectations this season, Marshon needs to put it all together and find his special way to rise above the competition in a consistent manner.  His three point shot needs to improve (his %'s the first three years are 27.0, 29.0, 29.6), and he needs to finish when he does get to the hoop.  Often times his slender frame would just get pushed around in the paint by the BIG EAST big boys.  Will his workouts this past off-season get him over the hump there? With last year's team defensive disaster still lingering around, maybe Marshon can elevate his defensive game to the next level?  With Greedy missing, maybe Brooks will make better decisions with the ball because in the back of his mind he knows shots won't be as rare as a Jersey Shore episode that doesn't involve a fight (Oh yeah Paulie D yeah!).  Whatever the case, Brooks has the chance to step up and get the Providence Friars to win some games.