Coach Keno Davis recently participated in the "Shots from the Heart" Free Throw Tournament.
OBJECTIVE: Help to create more awareness for the growing problem of Heart Disease and to raise money to benefit theAmerican Heart Association during the 2010-11-season.

TOURNAMENTS: There will be two 64-coach fields (one for head coaches and one for assistant coaches). Participating coaches will compete in a free throw shooting contest, which will be bracketed in NCAA tournament format.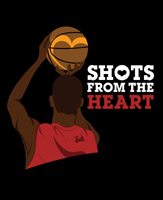 Coach drew a tough first round opponent in Fred Hoiberg (Iowa State), who hit every single one of his 25 foul shots. Keno did pretty well in only missing 3 shots (but hitting his 3-point money ball at the end). The final score was 31-28.
Assistant Coach Kevin Gamble also participated (in the Assistant Coach Bracket), and also got ousted in the first round. He lost 30-27 to Eric Eaton (Quinnipiac).
Maybe Vincent Council should give both coaches some tips!