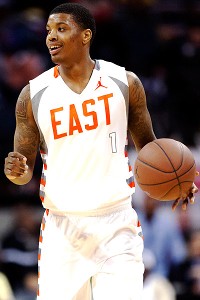 When I was first starting out in the world of sports journalism, doing freelance articles wherever I could, WPRO picked me up to do Rhode Island athletics. I told them I'd be thrilled and my expertise was with PC, and so they agreed to eventually set up a PC blog on their site. While the blog never panned out I had several articles published, and a regular column called the Five Factors. My first ever article as a journalist was published was on September 6 2011, talking about Ricky Ledo's recommitment to Providence College.
Well, here we are, exactly a year later, with the ultimate dick-kick of news – Ricky Ledo is indeed a Friar, but will not be seeing the court this season.
The news broke a mere few hours ago, but Twitter erupted, and following suit all the major sports media outlets chimed in their two cents. Honestly, it got a little overwhelming, and reading article after article of what basically became the same words with a different background I realized there was no actual perspective from a PC fan being voiced. And I think, given the impact this news has, it deserves a fan's perspective.
In the first ever Friarblog issue of Five Factors, I'm going to talk about a fan's perspective on this. This isn't a "how will the team fare without Ledo" or "the ramifications of Ledo or staying or going" type deal – this is a fan perspective. Keep reading to see what's up.
1. This decision will go down as the beginning of a landmark in the history of Providence basketball
This seems almost so obvious it shouldn't be mentioned, but in reality I don't think people truly understand the magnitude of this decision. When Ricky Ledo recommitted a year ago it was a symbol to Friar fans. It meant that with Ledo and Dunn in fold the drought of bad basketball was nearing an end. The Welsh years, the thousand years of Keno (at least it felt that long), the misses, the heartbreaking losses – it was over. We had Cooley, we had the promises, and now we had evidence that we were moving in the right direction. This ruling doesn't negate everything from a year ago, but it certainly is a buzz kill because of the open ended situation it leaves. Ledo is partial – will he stay and play next year? Will he leave for Europe or the D-League as Jeff Goodman has speculated?
For many fans though this is a rattle to the cage unlike anything before. We had him – he was on campus. Enrolled. He had a student ID. And now he has to wait a year just to play, which he may not do. It's a hard pill for fans to swallow, not because of the decision alone, but because of the shock waves of doubt that are running down every fan's back right now. We haven't seen history made with this decision, we are literally watching it unfold before our eyes without any solid promise of what the future could hold.
2. This speaks volumes about the NCAA
There's no denying it anymore. People can't turn a blind eye to it. The proof is in the pudding, as some people say (not sure why, I have no idea what it means). The NCAA saw a UNC team with proof of academic fraud and did nothing. They had a UCONN team before them with evidence of cheating and gave a slap on the wrist. Allegations of cheating in recruitment from major schools, and the NCAA has a "we'll get to it later" policy. They don't let a player play with his team in the NCAA tournament during his senior year for getting money from his coach for food. But for Ricky Ledo, a kid who had a hard time through school and moved around a lot before finding his footing and getting his act together, the NCAA will tell him no.
Providence fans feel it's personal, but I urge them to look at the bigger picture here. What message does this send to future ball players who struggle the same way Ricky did? How does it reflect on the NCAA, who advocate looking out for the student athlete? Some might argue that if Ledo had committed to a big named school he would've been cleared, but that isn't quite good enough. The NCAA sent a harsh message with the Ledo ruling, and that is they aren't quick to hand out chances to people who've made mistakes in the past. The NCAA can parade around like they're saintly, but in reality they're quick to look out for their own interests and have no intention of helping the student athletes. How would they have helped him? Thinking outside the box, meeting different academic standards would be a good start, but really we're looking for ways to help guide our student athletes and so should the NCAA.
3. It will be on Ledo to walk the walk
There are many out there who believe Jeff Goodman hates Ledo. Objectively I don't know if hate is the right word, but he certainly seems to tweet maliciously worded messages about the boy. However, one thing Goodman got right was this – Ledo got a partial, and if he wants to play at PC like he says he does he's going to have to step up and take it seriously.
Ledo has said he's looking forward to his days at PC, both as an athlete and a student, but now it will be up to him to prove it. I believe that Cooley will help him with this, thinking back to when Cooley was announced as the new basketball coach last March. "Go to class, be the example." Well, Ricky will have to go to class, as well as be an example student athlete, to silence the doubters.
4. The staff deserve a standing ovation
One year ago the pieces to this puzzle were coming together. Dunn had committed and Ledo had just announced his recommitment. Josh Fortune, who in my opinion is a vastly underrated shooting guard, was staying with the Friars, resulting in Providence holding the second best recruiting class in the nation. There was, however, a concern that Ledo would not be able to qualify and play for Providence – an underlying concern that most fans understood but rarely acknowledged publicly. The risks were known – we could be spending a scholarship on someone who might not be able to play, we might end up shooting ourselves in the foot – you know the drill.
It is for this reason I applaud coach Cooley and the basketball staff for their job. They knew the risks coming in, understood the circumstances, and found a way to address it in all circumstances. Cooley is smart, he knows that Ledo will bring the wins, but he also knew the challenges he would be facing should Ledo not qualify. The biggest concern was that Ledo would bolt should he not qualify, and I think coach mitigated this concern well. Turn it into a positive – give Ricky a year to develop his game, get settled and focused in school, and still participate with the team. A year of maturity will help him off the court, as well as on. And, most importantly, he's gotten Ricky to buy into this as well, evidenced through the recent interviews with GoLocalProv and the Projo. Will it last? Honestly, who knows, but for now the evidence is in Cooley's favor, and for not only having a plan but ensuring that they made it this far, I commend him and his staff.
5. With or without Ledo, the show will go on
The summer of anticipation has come to a conclusion with this decision. Literally hours before the announcement Ledo's eligibility Providence College released it's 2012-2013 basketball schedule, which is a great remainder to fans that the decision won't put the season on hold. Whether or not Ledo qualified, and regardless of what happens next, there is one guarantee – on October 27 the Friars will take the court for their first exhibition game against Assumption. Just as one player does not make a team, it should not determine a fan base. This is the part where, should it be any other fan base, I would say something like "it's our responsibility to move forward and support the team," but with us I don't need to. I know you all know this, and I know you all will do this. We are a strong fan base. We have endured worse, and we will get through this the same way we've gotten through the worst of the worst – as a single, collective unit of fans who support the team.
If I bring this up, it's only to share three simple words we all act on but are easy to forget: keep the faith. It's easy to be bitter when things haven't worked out the way they have been, just like it's easy to root for a team that always wins. Now we need to remind ourselves that, as much as this sucks, we are going to get where we need to go. We will see through this. Maybe it won't be this year, but we're getting there. Brick by brick, as coach said, we are building this program the right way. Keep the faith like I know you will Friar fans, and it will work out.