Good Morning Friartown,
I wish I could come to you today with good news, but personally speaking, it is hard to feel good about what happened on the court yesterday. PC played two games this week, with the first being:
FRIARS 79 COLGATE 45
There was so much to celebrate about that game, with suffocating defense, good decision making, and oh yeah, the start of Kris Dunn's career as a Providence Friar, as he only had 13 assists, a freshman-record for a first game. Sidiki Johnson also made his debut, and while his bullish demeanor on the court will be useful in Big East play, the matchups with three guard lineups is a huge mismatch
Friartown was ready to explode. Expectations were increasing. PC had a road game at Boston College, the same team who lost to Bryant by 2 and Harvard by 16 at home. In their last game, they needed OT to beat UNH by 2. When I saw GAMER projections predict BC to win 69-68, I laughed. PC had momentum, BC was desperate. Perhaps I should have looked at what history has shown us: PC struggles at Conte Forum. The games have been good for the most part, but PC can never seem to pull them out. Before the game on Saturday, PC had lost 6 of their last 8 meetings at Boston College since 2000 (not counting the neutral court game at the Fleet Center in 2007). The wins: 2003 and 2004. Thank you Ryan Gomes!
Seeing that final score, Boston College 71 Providence 68, it just reminded me what it is like to be a Friar fan. We will get there, I believe in Cooley, but it's never easy.
Enough of the drama though. Kris Dunn played very well in his debut the other night, and so it got me thinking: How did his performance stack up against other freshmen in recent memory? Who do you think had the best freshman opening night debut since 2000?
For that and other answers, let's get to the Crunch…
In order to determine this, I broke down the statistics in a very simple manner. You see, I am in a fantasy college basketball league. My team may not agree with the scoring system (1-5 the past two weeks; 10-8 overall), but every game is scored like this:

So using the system, I went back into the Statsheet database. I plugged in the numbers for every Friar to step on the court for his first game in the year 2000 or after. If you guessed the player to have the best Friar debut in that time, well done, because I was wrong. The answer key: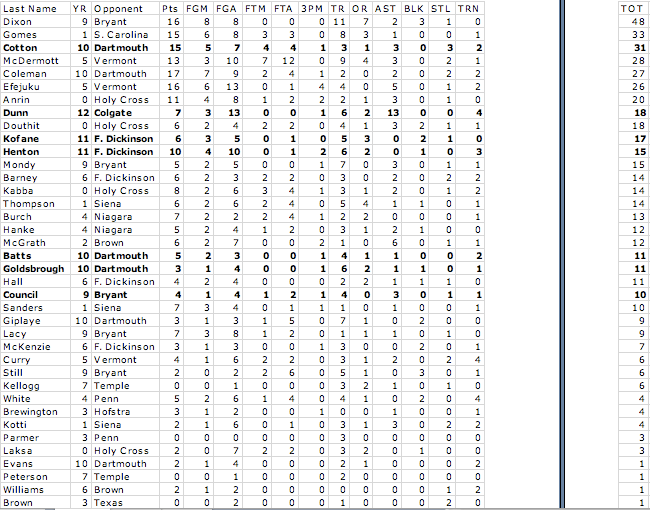 If you guessed Bilal Dixon, you have the memory of a genius! That debut for Kris Dunn the other night ranked him 8th in comparison to his recent peers. The other thing that stood out: Who would have guessed that out of all current scholarship players on the roster, Vincent Council would have had the "worst" opening night game stat wise?
So now for the fun part. As you can see, there are players missing. Three players posted no stats in their first game. Ironically, two of those three players were taken in the NBA draft. Those three: Marshon Brooks, Herbert Hill, and Donnell Allick, who was murdered last year.
That leaves three players who under this metric posted negative stat lines. Care to try to see who is missing and rank them?
3. Josh Fortune vs. NJIT in 2012
The stats: 2 points, 1-10 shooting, 2 rebounds (1 offensive), 3 assists, 1 steal, 1 turnover
2. Jonathan Kale vs. Vermont in 2005
The stats: 0 points, 0-1 shooting, 2 rebounds, 3 turnovers
1. Rob McKiver vs. Niagara in 2003
The stats: 0-3 shooting, 1 rebound, 1 turnover
So there you have it: The best freshman debut goes to Bilal Dixon, and the worst goes to Rob McKiver.
In other news, the fact that Kris Dunn and Sidiki Johnson are now able to play means that PC also has a bench for basically the first time in three years. One stat that I love is bench points. It doesn't tell the whole story, but if you have a lot of points coming from your bench, typically that indicates you have quality players there.
Care to guess how bench scoring has improved with the reinforcements?
NJIT – 5
Bryant – 7
UMASS – 4
Penn St. – 0
UNC-Asheville – 2
Fairfield – 2
Holy Cross – 0
Mississippi St. – 7
URI – 0
Total First Nine Games: 27
Colgate – 17
Boston College – 8
Past Two Games With Dunn and Johnson: 25
What a difference two guys can make, and once Vincent Council comes back, it means that another scorer will be headed to the bench. PC is finally about to start to turn into the image Coach Cooley wanted when he took the job. He wants to press, he wants to play physical man-to-man defense, and he couldn't do that before because of the lack of quality bodies. I'm excited to see the team start to get it's groove.
It's easy to get down after games like Boston College, but there is still a lot of good brewing in Friartown. We have one of the biggest steals in recruiting with Rodney Bullock. He's a former five star recruit who is have a HUGE start to his senior year. Brandon Austin is also projected to shoot up the rankings list. And maybe Coach has another transfer or recruit lurking around the corner.
Happy Holidays Friar Fans! Talk to you next week!